Featured Boutique Hotel
Madison's Hotel, Belfast
Madison's Hotel, located only 300 metres from Belfast city centre, features an award-winning restaurant, a stunning bar and free Wi-Fi in each room..
Click here for more information
Featured Hotel
The Merchant Hotel, Belfast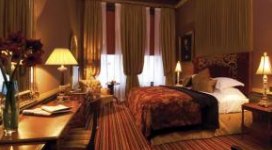 The Merchant Hotel is a 5-star hotel in the heart of Belfast city centre. Featuring a spa, gym, hot tub, luxurious air-conditioned rooms, a stunning restaurant and a choice of bars. Click here for more information

BELFAST Dukes at Queens

In the heart of Belfast, this luxurious 4-star hotel offers free parking, free internet access, great food and stylish, contemporary, air-conditioned rooms with 37-inch (94 cm) LCD TVs and iPod docking stations. Formerly the Dukes Hotel, Dukes at Queens has now been stylishly transformed and reopened as a boutique hotel, rich in contemporary style and modern sophistication. The sleek and luxurious rooms have individually controlled air conditioning...

BELFAST Malmaison Belfast

In the heart of the city, this beautifully converted Victorian warehouse is now a stylish and luxurious 4-star hotel, mixing period features with modern boutique style. The luxurious rooms and elegant suites are decorated in a rich, opulent style, with mood lighting and comfortable deluxe beds. All rooms have satellite TV, CD players and CD libraries, along with power showers. The hotel also offers some of the best eating and drinking in Belfast, with a stylish bar and a brasserie. Expect top-quality food made with locally sourced, ethically
produced ingredients.
BELFAST Ten Square

Ten Square is Belfast's most interesting and innovative hotel development of the decade. This chic hotel has established itself as a firm favourite with visiting celebrities and discerning locals alike. One of the most innovative and stylish hotels in Belfast, the 23 bedrooms are a luxury showpiece of Asian splendour. The chic and sophisticated interior has promoted a new aesthetic for hospitality in the province for the cosmopolitan and city-hopping visitors.